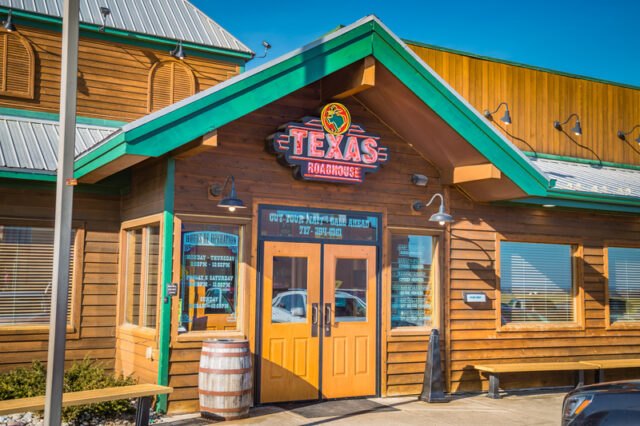 TOMS RIVER, NJ – Texas Roadhouse is coming to the Ocean County Mall complex in Toms River. While no formal announcement has been made, many residents were hoping the former Charlie Brown's restaurant at the intersection of Hooper Avenue and Kettle Creek Road could one day become a Texas Roadhouse, a public notice for a liquor license was issued by Toms River Township officials.
You can read the public notice below.
What is says
NOTICE ALCOHOLIC BEVERAGE CONTROL Take notice that an application has been made to Toms River Township, 33 Washington Street, Toms River, New Jersey, to transfer Plenary Retail Consumption License Number 1507-33-014-004, heretofore issued to Ocean Ventures Liquor I LLC as a pocket license, to Texas Roadhouse Holdings LLC for a restaurant located at 1201 Hooper Avenue, Toms River, New Jersey 08753. The person(s) who will hold an interest in this license is/are: Texas Roadhouse, Inc. 6040 Dutchmans Lane, Suite 200 Louisville…, if any, should be made immediately in writing to: Township Clerk, Toms River Township, 33 Washington Street, Toms River, New Jersey 08753. Texas Roadhouse Holdings LLC c/o Skene Law Firm 2614 Route 516, 2nd Floor Old Bridge, NJ 08857 ($96.80)
What it means
Texas Roadhouse is planning on coming to Toms River. The address in the public notice shows the location as being in the Ocean County Mall shopping complex. It would be an ideal spot for the restaurant. Currently, the closest Texas Roadhouse to Toms River is on Route 9 in Howell Township.
Texas Roadhouse is a much anticipated and requested addition by residents on social media. It would be the first location in Ocean County. Aside from Howell, the chain operates in Hamilton, Holmdel, Old Bridge, and Egg Harbor. There is also a Texas Road House just across the Delaware River in Bensalem, Pennsylvania.
The company has not yet publicly confirmed this addition to its restaurant chain.